Based on our comprehensive technical
expertise, we have built a unique
manufacturing system that covers
quality, cost, and delivery.
Nukabe's motto is to offer products that deliver customer satisfaction in all areas including quality, cost, and delivery. Nukabe uses technology accumulated since it was established to strengthen its production facilities. One example is the strategy taken to deal with increasing cost competition due to globalization. We have met customer needs by sharply raising production efficiency with the introduction of robotically automated production lines and with the adoption of FMS for flexible production. We are meeting demands for sub-micron-level requirements, with the introduction of ultra-fine processing machines such as precision grinding machines and super finishing machines.
Nukabe is at an advantage as it not only utilizes standard machine tools, but we also design and build dedicated machines to meet special product needs. We combine these common and specialized machines to build unique manufacturing systems, and we are able to manufacture high precision, low-cost products unequalled by others.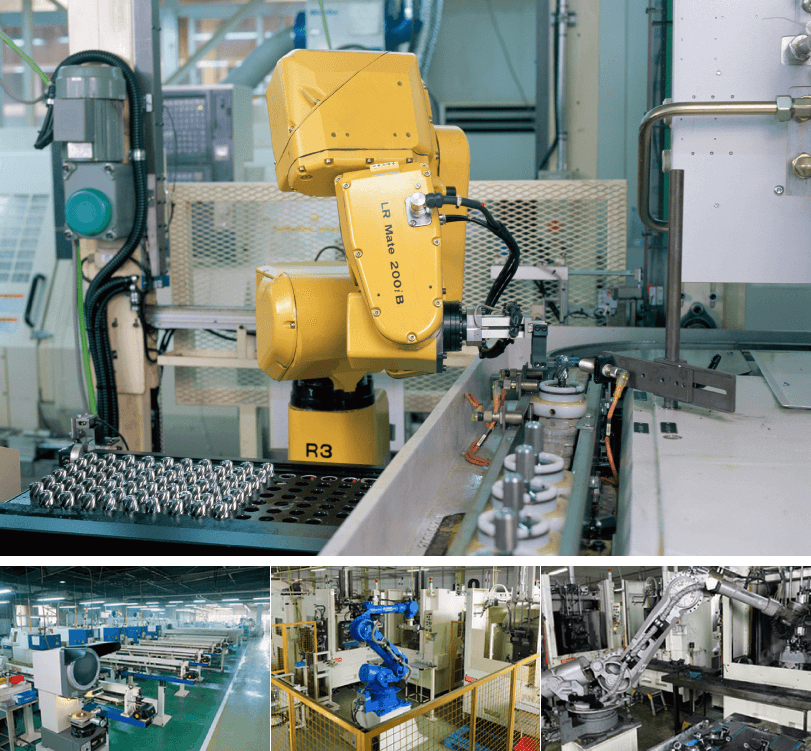 Main facilities
| 設備名 | 台数 | 設備メーカー |
| --- | --- | --- |
| CNC Lathe | 312 | ミヤノ、曙、滝澤、高松、森精機、オークマ |
| Machining Center | 299 | ジェイテクト、森精機、OKUMA、TAKIZAWA、オークマ、日立精機、ファナック、ブラザー、TOYOSK |
| Griding machine | 92 | 大宮製作所、太陽、岡本、TSUGAMI、TOYODA、TOYOエイテック、STUDER |
| Broaching machine | 7 | ナチ、タイガー |
| Hobbing machine | 9 | Gleason、PFAUTER、カシフジ、三菱 |
| Rolling machine | 6 | ツガミ、ニッセイ |
| Multi axis robot | 153 | ファナック、安川電機 |
| Others | 47 | |
| Total | 925 | |
Main measuring machine
| 設備名 | 台数 | 設備メーカー |
| --- | --- | --- |
| Coordinate measuring machine | 7 | 東京精密、ミツトヨ |
| Profile measuring machine | 6 | 東京精密、小坂研究所 |
| Roundness measuring machine | 5 | 東京精密、小坂研究所 |
| Roughness measuring machine | 6 | 東京精密、ミツトヨ |
| Optical comparator | 7 | ミツトヨ ニコン |
| Hardness tester | 3 | AKASHI |
| Gear testing machine | 2 | 大阪精密 |
| Total | 36 | |