All employees are keenly aware of
quality, and the entire company is
involved in creating a system of
continuous quality improvement.
As Nukabe manufactures numerous important functional parts, the creation of high- quality products is essential. For this reason, we place great emphasis on the area of quality control. We have introduced the latest quality assessment and measurement equipment, including 3-D measuring tools, to ensure top quality control.
Further, each and every employee's awareness of quality improvement is vital. The motto of "quality is created during each step of the manufacturing process design" guides each employee to promote an active approach to quality management.
Not only employees effective enthusiasm for offering the best products is ensured,but also we are actively seeking to create a system to improve quality management throughout the company. Nukabe has already obtained ISO9001 certification, as well as certification for IATF16949 at Takasaki and Uda plant.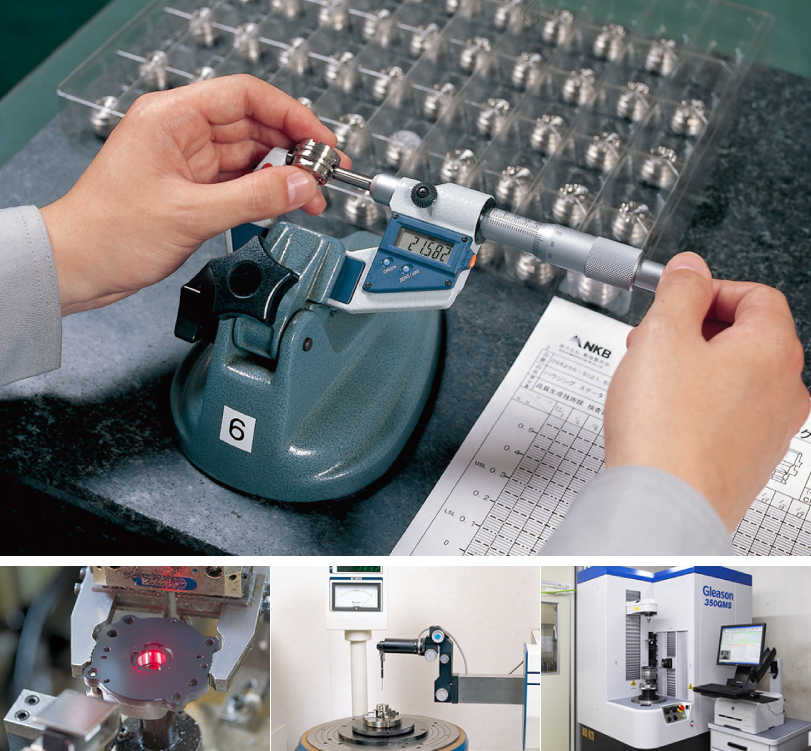 Quality Policy

Nukabe is devoted to continuing to offer the best quality products that customer satisfaction in all areas with quality management system to dedicates.
主要測定機器
| 設備名 | 高崎工場 | 甘楽工場 | 宇田工場 | 合計 | 設備メーカー |
| --- | --- | --- | --- | --- | --- |
| 三次元測定機 | 2 | 2 | 3 | 7 | 東京精密、ミツトヨ |
| 形状測定機 | 2 | 2 | 2 | 6 | 東京精密、小坂研究所 |
| 真円度測定機 | 2 | 1 | 2 | 5 | 東京精密、小坂研究所 |
| 面粗度測定機 | 2 | 3 | 2 | 7 | 東京精密、ミツトヨ |
| 投影機 | 3 | 2 | 4 | 9 | ミツトヨ ニコン |
| 硬度測定機 | 1 | 1 | 0 | 2 | AKASHI |
| 歯車試験機 | 2 | 2 | 0 | 3 | Gleason、大阪精密 |
| 合計 | 13 | 13 | 13 | 39 | |